2017 edition winterwork
ISBN 978-3-96014-336-9
Auszug aus dem Buch
So wie gerade im 20. Jahrhundert Künstler auf der Suche nach Analogien zwischen Musik und bildender Kunst waren, deren Ziel am Ende eine Synthese der Künste bedeutete, kann man im malerischen Werk von Hierholzer beobachten, wie die Idee der Musik - eingeschlossen auch die Naturbeobachtung - zu einer farbberauschten Bildsprache führt, deren autonome Farbigkeit malerische Grenzauflösungen aufzeigt. Landschaften, Lichtbilder sowie die malerische Auseinandersetzung mit dem kosmischen Licht sind dabei die Hauptstränge ihres künstlerischen Schaffens. [...]
In Anlehnung an Umberto Ecos Buch "Das offene Kunstwerk" kann man die Bilder von Ursula Hierholzer durchaus auch als "offene Kunstwerke" einstufen, handelt es sich doch um Arbeiten, die strukturell in einer Weise organisiert sind, die den Betrachter zu einer Vielzahl interpretativer Möglichkeiten auffordert. Ein Beispiel eigener Interpretation ist das Bild "Les nuits d'été" nach der Komposition von Hector Berlioz für Sopranstimme und Orchester.
Michael Wessing, Kunsthistoriker, Münster

Selten hat ein Werktitel so in die Irre geführt wie "Les nuits d'été" des französischen Romantikers Hector Berlioz. Wer sich beim Hören dieses ersten Orchesterlied-Zyklus' der Musikgeschichte auf eine klingende Reise in unbeschwerte, laue "Sommernächte" freut, wird rasch eines besseren belehrt. Schon der widersprüchliche Name der Gedichtsammlung von Berlioz' Freund Théophile Gautier, aus der die Texte zu den Liedern stammen, lässt es erahnen - "La comédie de la mort" ("Die Komödie des Todes"): Berlioz' Sommernächte kreisen um wenig sommerliche Themen. Von jugendlicher Verliebheit ausgehend, folgen Verlust, schmerzliche Entbehrung und Tod der Geliebten; am Ende steht immerhin das Wiederaufkeimen neuer Liebe. Im ersten Lied aus Berlioz' poetischem Zyklus, auf das sich Ursula Hierholzer mit ihrem Bild bezieht, ist die Welt freilich noch in Ordnung. Es erzählt in zarter Klanglichkeit von den Freuden des Frühlings. Für die Leichtigkeit des Lebens stehen hier die Achtel-Ketten der hohen Holzbläser, die das Lied in Berlioz' kammermusikalischer Instrumentation ganz allein eröffnen. Dem entsprechen die gelben und orangeroten Farben auf der Leinwand, die ein tanzendes Mädchen symbolisieren. Aber auch der tragische Verlauf des Liederzyklus' ist in den dunklen Farben des Bildes bereits angekündigt.
Julius Heile, Musikwissenschaftler, Hamburg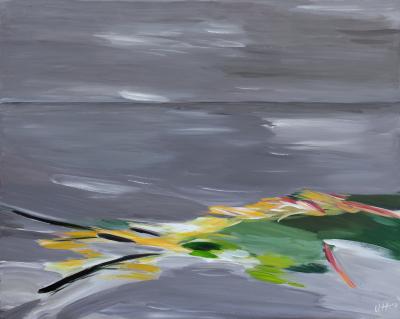 Les nuits d'été nach Hector Berlioz
Ursula Hierholzer at RED DOT Miami 2012
Red Dot Miami is one of the most successful art fairs which will be opened on 4th December concurrently with Art Basel Miami Beach. Up to 70 national and international galleries showing contemporary art from the fields of photography, painting and sculpture in a luxury tent at 60,000 square meters. This year there will be solo sections on display for the first time: 75 solo projects with small booths for individual art projects.
The art fair is representing upcoming galleries and artists from the U.S., Europe and emerging countries. As the year before, RED DOT Miami lodges again in the Wynwood Art District, in distinguished neighbourhood close to Art Miami, Scope and Art Asia.
The artist Ursula Hierholzer looks expectantly to America, telling us her point of view: "I am delighted that the EUART Gallery presents my work on the RED DOT Miami. There are five large canvases in acrylic at the show, which significantly are influenced by nature, therefore light and color play an important role. By choosing the colors and the light, semi-transparent brush stroke a lively, bright landscape evokes. Similar to me, when I create these paintings in a joyful and openminded mood, I wish that also the viewer can experience nature in my paintings."
Orangery of the Botanical Garden
University of Münster
24.09.2011
[...] In Ursula Hierholzer's paintings at the exhibition "Nature in Light", the main theme is light and color. For example, park landscapes correspond as red contrast to blue and green under a slight, floating sky. The composition of the painting "A Hamlet" (Ortschaft) is the result of layering: at the bottom the green fields, above them perhaps houses in red before the structure of a wood. Created through the application of glazes, a ribbon of sky contrasting yellow into the background appears to be glowing. One is inclined to recognize an impressionist mode, where forms and colors are not presented as they are presumed to be, but as the artist sees them in an all-transforming light: As a sudden lighting up and then disappearing brightness, as a movement of the air, a tremor of the body. At the same time the historical principle of illumination, as for instance by Caravaggio, dissolve. The shadows sink away and the depicted world emerges as transformed phenomenon of natural light.